IOMVAC Competitions and Trophies 2015 --> Here
The IOMVAC Committee have organised discounted sessions for our club members with Steve Brearley. Injury consultations: members to pay £10 (normal cost £20). Half-hour sports massages: members to pay £15 (normal cost £25). Steve is based at Living Well in the Palace Hotel, Douglas. Contact him on 453072.
IOMVAC Newsletter -> March 2015 . Walking League --> Here
Vets' Road Shield 2015 (updated 20/5/15): After 5 on-Island events --> Here
IOMVAC Fell Running League 2015: After 6 events --> Here
Ramsey Bakery End to End Walk

Sunday 20th September 2015

Isle of Man Marathon & Half Marathon
Sunday 9th August 2015 --> Website <--
Dursley Stott Spring Handicap Races were held on the NSC Roadway on Thursday 19th March 2015.
RESULTS: --> 5K Walk <-- and --> 10K Run <-- Photos by Murray Lambden --> here <-- Report by Mo Kelly:-
Farquhars Set the Bar!
The Dursley Stott Spring Handicap Races, organised by the Isle of Man Veteran Athletes' Club, were held on the NSC perimeter roadway on Thursday 19 March in ideal conditions.
The 5K walk produced some very fine performances. Fastest on the night was Dale Farquhar in 26mins 22secs but it was Jayne Farquhar who claimed the race victory in an excellent time of 32:27. Fastest lady was Louise Smith in 31:52.
In the 10K run it was Kevin Deakes who took the spoils in a time of 37:24 with another excellent run following his success in the 20 mile race held earlier in the month.
However, the fastest time was set by Jamie Newton in 34:07 finishing just 8 seconds ahead of Mike Garrett after a close battle between the pair from start to finish. Mike Garrett's time of 34:15 is believed to be a new V45 record – yet to be ratified.The fastest lady was Rachael Hamilton in 38:28.
Thanks to the lap-counters, marshals, judges, time-keeper and all who helped in this ever increasingly popular race event.
IOMVAC Membership Form for 2015 --> Here <--
Please note that the Form has 2 pages. To be considered a Veteran you must be over 35 years of age and provide proof of age. Please renew your Membership as soon as possible.
Proposed Minutes of 2015 AGM Chairman's Report for 2014 Note from Terry Bates, our new Chairman
Isle of Man Open 20 Mile Road Race, sponsored by Leinster Management Ltd.

was held in dry but rather cold & breezy conditions at the N.S.C. in Douglas on Sunday 1st March 2015. -> RESULTS <-
Well done to all. Ladies winner, Helen Taylor, and overall winner Kevin Deakes. Photos - Adrian Cowin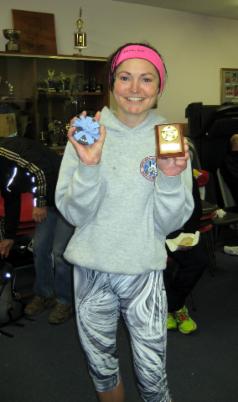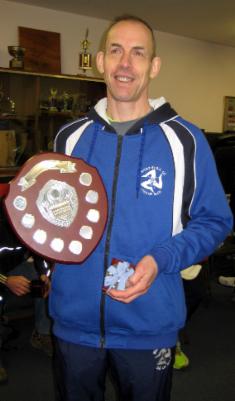 Many thanks to the organisers, officials, lap counters, water station & helpers. Thanks to Manx Harriers for the use of their clubhouse. Photos by Murray Lambden here and by Adrian Cowin here
The Top Three -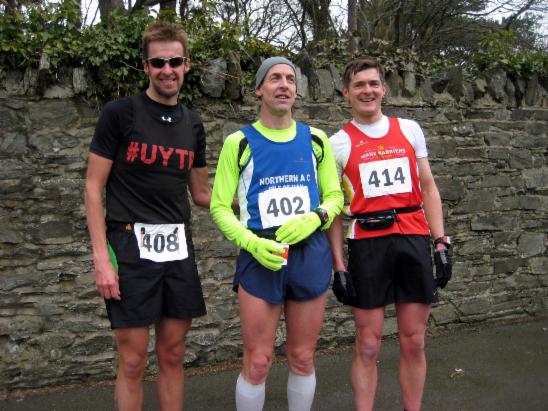 Left to right: Anthony Bell-Scott (3rd), Kevin Deakes (1st) & Paul Sykes (2nd)
-------------------------------------------------------------------------------------------------------------